Now there"s a way to end the needless pain caused by A fungal infection that usually begins between the toes (ATHELET'S FOOT)...
There is NO reason for you to suffer with Sore feet, actching feet and the likes. FEET CAN MAKE YOU FEEL MISRABLE. for some people, their discomfort goes all the way through their back and neck. it seems like when your FEET HURTS, you hurt all over.
What Exactly Is Athlete's Foot
Athlete's foot — also called tinea pedis — is a contagious fungal infection that affects the skin on the feet. It can also spread to the toenails and the hands. The fungal infection is called athlete's foot because it's commonly seen in athletes.
Athlete's foot isn't serious, but sometimes it's hard to cure. If you have diabetes or a weakened immune system and suspect you have athlete's foot, you should call your doctor right away.
What causes athlete's foot?
Athlete's foot occurs when the tinea fungus grows on the feet. You can catch the fungus through direct contact with an infected person, or by touching surfaces contaminated with the fungus. The fungus thrives in warm, moist environments. It's commonly found in showers, on locker room floors, and around swimming pools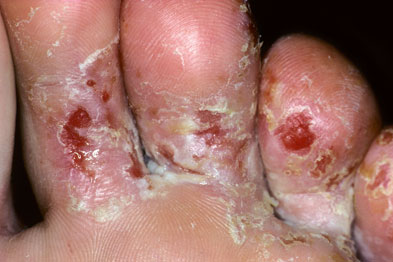 Who is at risk for athlete's foot?
Anyone can get athlete's foot, but certain behaviors increase your risk. Factors that increase your risk of getting athlete's foot include:
visiting public places barefoot, especially locker rooms, showers, and swimming pools
sharing socks, shoes, or towels with an infected person
wearing tight, closed-toe shoes keeping your feet wet for long periods of time
having sweaty feet
having a minor skin or nail injury on your foot.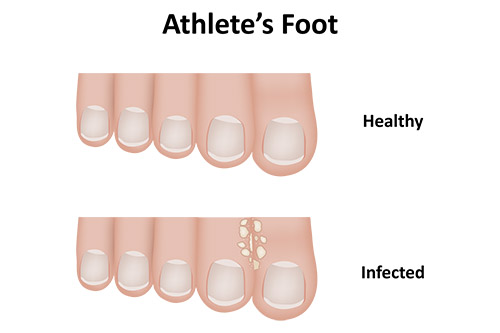 What are the symptoms of athlete's foot?
There are many possible symptoms of athlete's foot, which include:
itching
stinging
burning between your toes or on soles of your feet
blisters on your feet that itch cracking
peeling skin on your feet, most commonly between your toes and on your soles
dry skin on your soles or sides of your feet
raw skin on your feet discolored, thick, and crumbly toenails toenails that pull away from the nail bed
Types Of Athlete's feet
Athlete's foot can make your feet and the skin between your toes burn and itch. The skin may peel and crack. Your symptoms can depend on the type of athlete's foot you have. This include;
Toe web infection usually occurs between the fourth and fifth toes. The skin becomes scaly, peels, and cracks. Some people also may have an infection with bacteria. This can make the skin break down even more.
Moccasin type infection may start with a little soreness on your foot. Then the skin on the bottom or heel of your foot can become thick and crack. In bad cases, the toenails get infected and can thicken, crumble, and even fall out. Fungal infection in toenails needs separate treatment.
Vesicular type infection usually begins with a sudden outbreak of fluid-filled blisters under the skin. The blisters are usually on the bottom of the foot. But they can appear anywhere on your foot. You also can get a bacterial infection with this type of athlete's foot.
Does athlete's foot go away on its own?
Unfortunately, athlete's foot does not usually heal on its own. If left untreated, large, painful fissures can also develop. These cracks can expose your feet to bacterial infections, which can make healing more complicated.
Now there is a way to end this kind of nedless pain forever. Get the New Amazing Natural Herba paste
BeriBeri
HOW TO APPLY THIS PRODUCT
External Use Only
Wash the affected foot with

WARM water

, allow the water to dry. Then apply an appropriate amount of the

PASTE

directly to the affected foot twice in a day..

morning before going to work and later at night before going to bed.
NOTE: External use, not oral. Skin allergies are used with caution.
Get the

New effective medicinal herbs, athlete's foot cream herbal products treat beriberi more efficiently

TODAY
PAY ON DELIVERY

,THE TRANSPORT FEE TO YOUR LOCATION IS FREE.
REGULAR PRICE: 15,500 for two tubes
PROMO PRICE: #9,500 for two tubes
HOW TO ORDER:

Fill Your Address Details In The Form Below Accurately and we will Deliver the "Product" to You
NOTE: Make sure your address is well written with full descriptions.
24-48Hours Delivery Within Lagos and 1-7 Working Days for other states, Depending On Your Location.
IMPORTANT NOTICE:
Please Do Not ORDER If:
You are not ready to Buy

You won't be around within the next 1-7 business days

You will be traveling within the next 1-7 business days.

If the cash is not readily available
FILL THE BELOW FORM TO PLACE AN ORDER TODAY